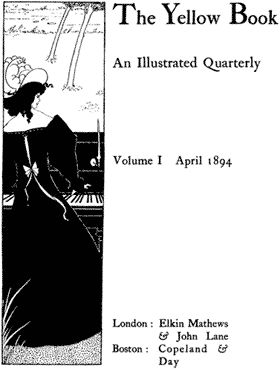 Title Page to the Yellow Book - Volume 1
Letters
To the Editor of the Pall Mall Budget.
27 April 1894.
The Bodley Head, Vigo Street, W.
Sir,
So much exception has been taken, both by the Press and by private persons, to my title-page of The Yellow Book, that I must plead for space in your valuable paper to enlighten those who profess to find my picture unintelligible. It represents a lady playing the piano in the middle of a field.
Unpardonable affectation! cry the critics. But let us listen to Bomvet. "Christopher Willibald Ritter von Gluck, in order to warm his imagination and to transport himself to Aulis or Sparta, was accustomed to place himself in the middle of a field. In this situation, with his piano before him, and a bottle of champagne on each side, he wrote in the open air his two Iphigenias, his Orpheus, and some other works." I tremble to think what critics would say had I introduced those bottles of champagne. And yet we do not call Gluck a decadent.
Yours obediently,
Aubrey Beardsley
¶ 1894. Occasioned by adverse comment about the title-page of the first number of the Yellow Book, this letter was almost certainly written to stir up controversy for publicity purposes. The historical reference and the quotation are undoubtedly Beardsley's own inventions.